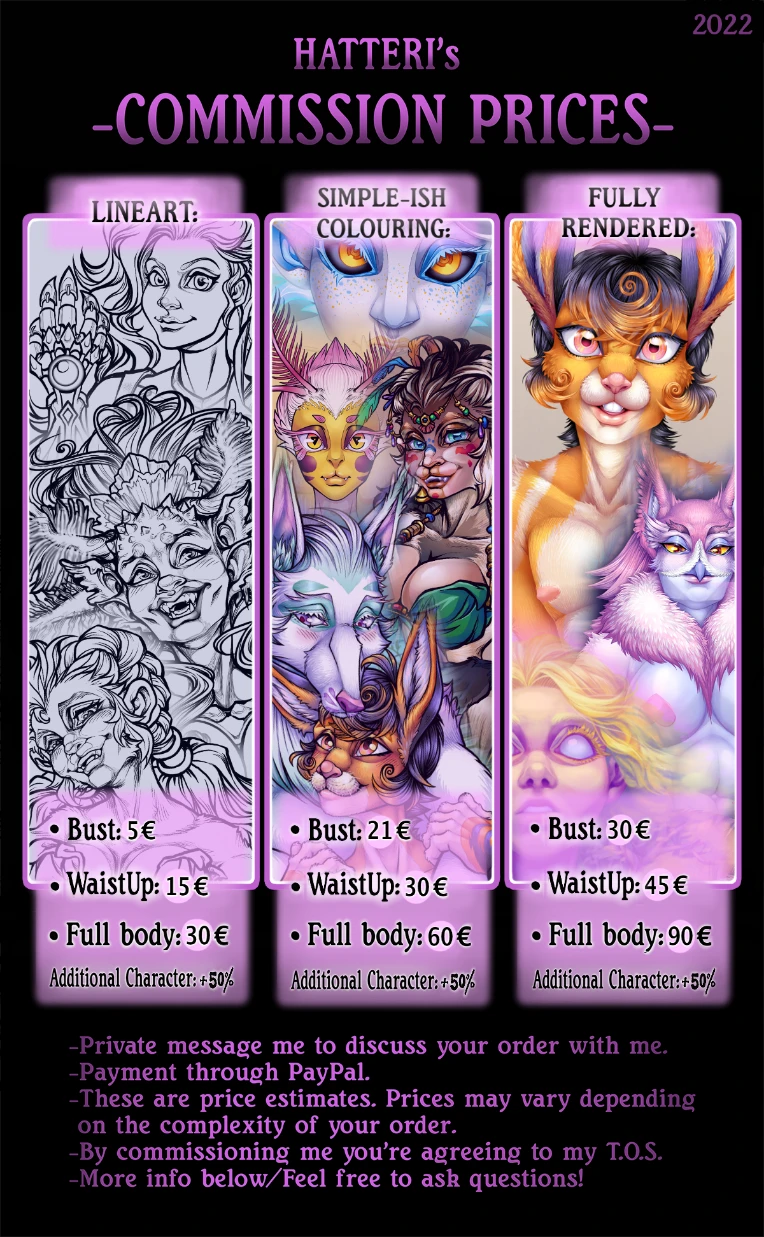 Terms Of Service:
WILL DRAW:
-Your characters (OCs)
-Fan art
-NSFW
-Ponies
-Anthros
-Animals
-Armor
-Robots/Cyborgs
-Certain fetishes (feel free to ask what I'm okay with and what I'm not, no judge policy!<3)
WON'T DRAW:
-Hateful or offensive art
-Certain fetishes (feel free to ask what I'm okay with and what I'm not)
-Pedophilia
-Incest
-NSFW content of under-aged characters.
IMPORTANT:
I have the right to decline a commission if I am uncomfortable or unable to create it.
These are approximate prices. Every commission is different, therefore every commission has a unique price based on how detailed and/or time consuming it will be, but unless your characters happen to be expectionally detailed, the prices on the prices sheet on the sheet will be pretty much accurate to how your commission will be priced
THE ESTIMATED WAIT TIME for your commission to be done ranches from 1-4 days to 2 weeks. There are expections. Sometimes I'm faster than expected, sometimes my IRL gets more busy for work and family issues, holidays, getting sick etc. Which makes the progress slower. I will however always keep you updated and you can ask for questions.
PAYMENT DETAILS:
I take Payment through PayPal,
-You don't have to have a PayPal account yourself in order to pay me. I can send a request for payment from my PayPal account to your email address. You will receive an email informing you of my request for payment which contains a link, you can pay just using your card details and do not have to create an account. Also PayPal can convert your currency to fit the payment if you don't use euros.
-I ask for full payment up front. However if the price of your commission ends up 100€ or higher, then you can pay half up front, half when the commission is done.
-I may charge extra for extra changes to your commission (Meaning if I give you an update and you want changes to be done throughout the process, I can do it a couple of times before I will charge you extra.) 
By commissioning me you're agreeing to these conditions.
Tags:
---